Samuel[8] Dickerman was an eighth generation descendant of Thomas[1] and Ellen Dickerman, the original immigrant ancestors of nearly all living Dickerman's in the U.S.  Samuel's father was also named Samuel and his mother was Mary Lewis.   The line goes back as follows:
Samuel[8], Samuel[7],  Samuel[6], Samuel[5], John[4], John[3], Thomas[2], Thomas[1]
Samuel[6] and Persis have an interesting story, but this entry is about Samuel[8] and Mary and their children.  This researcher has spent many hours over several decades tracing the lives and history of this Civil War era family.  On March 31st, 1849, Samuel[8] set sail for California aboard the Brig Taranto in search of gold in the fields of California.  He was about to participate in the Gold Rush of 1849 as one of the original "Forty-Niners".   Sam's name (S.Dickerman) appears in several lists, including this entry from the New York Herald of April 7th of that year.
Samuel joined The Shawmut Mining and Trading Association along with others from New Hampshire and Massachusetts. Each of the sixty men in the company paid $300 in shares for the opportunity to sail to California in search of gold.  After a brief legal challenge (see Massachusetts District Court decision of March, 1849), the Taranto set sail from Boston commanded by Capt. Saunders.  The brig sailed around Cape Horn at the southern tip of South America with stops in Brazil and other South American ports.  From there, the ship sailed north to San Francisco Bay where is was abandoned by the crew and passengers – all seeking fortune in the Gold Fields of California.  Eventually, the Brig Taranto was sold at auction.
Sadly, Sam died within a year leaving his wife, Mary (Russell) Dickerman and younger children, including Edward Henry[9] Dickerman, great-great grandfather of this author.  With older brother James and younger sister Diantha in tow, Mary moved into the Wilderness in west-central Michigan to live with her brother, Albert G. Russell.  Mary eventually met and married Arnold Payne, the first white settler of Gratiot County, Michigan whose biography can be found in the Portrait and Biographical Album of Gratiot County, Michigan.  Mary (Russell) Dickerman Payne is buried in the "Old Payne Cemetery", now known as as the Fulton Township Cemetery.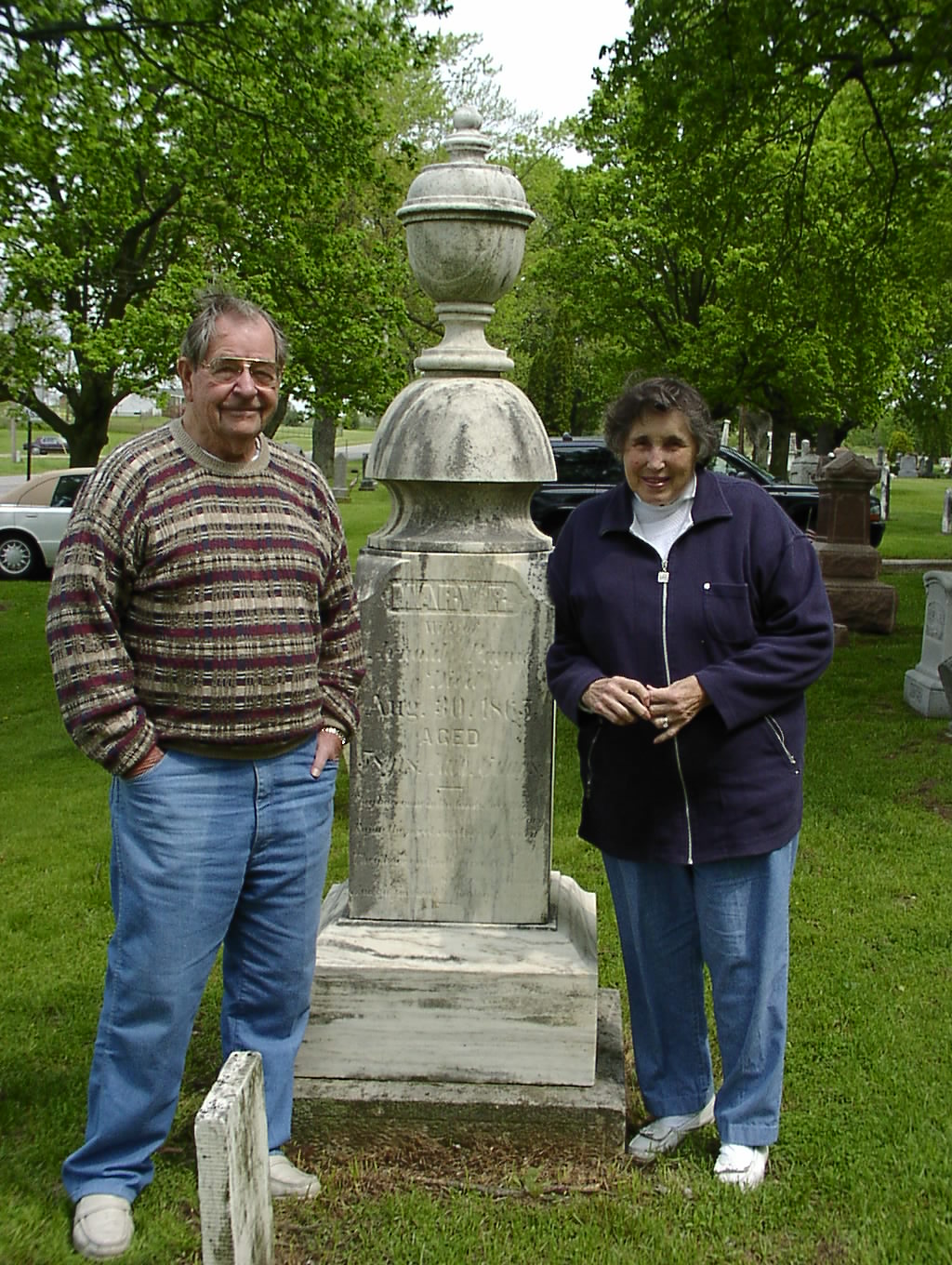 Owen Louis[12] and Lee (Olson) Dickerman in the Old Payne Cemetery with the headstone of Mary (Russell) Dickerman Arnold.
Samuel[8] Dickerman was reported to have died in California in 1850 though we have no record other than the writings of E.H. Dickerman.  Edward passed this information on to Edward Dwight Dickerman who wrote and published the Dickerman Genealogy.  Mary died August 30, 1865.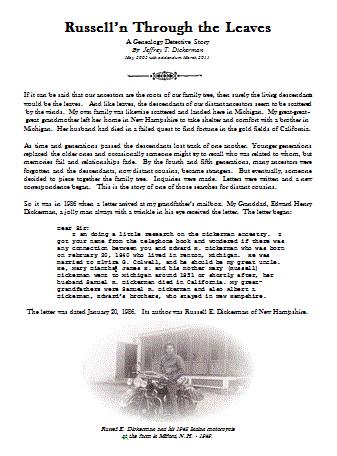 Responding to a challenge from my Uncle Jim (James Samuel[12] Dickerman) to locate the parents of Mary (Russell) Dickerman, with our cousin Russell E.[12] Dickerman we have been able to show that Mary was descended from Jason Russell of Menotomy, Massachusetts.  The entire story of our research efforts is described in the short story, "Russell'n Through the Leaves", available on this server in PDF format.
Jason Russell was killed on his own doorstep defending his home during the retreat of the British from Lexington and Concord on the first day of the Revolutionary War.  Jason's home is now a museum maintained by The Arlington Historical Society and worth a trip back east to visit.
The research required for this work has lead us to long-lost cousins including Russ[12] and Geri Dickerman of Nashua, New Hampshire, Owen[12] and Lee Dickerman, formerly of Somerset, Massachusetts, Charlie[12] and Diane Dickerman of Vermont, and even Richard[12] and Wendy[13] Bolles, descendants of Frank Bolles Dickerman.  (The Bolles-Dickerman connection will be the subject of a  future entry and a fascinating story by itself.)
Other Descendants of Samuel[8] and Mary (Russell) Dickerman are undoubtedly out but not yet known to this author.  A brief summary of the original Civil War era children are:
Children of Samuel[8] Dickerman and Mary Russell:
 – Samuel R. Dickerman[9] – born in 1828 in Mason, New Hampshire.  Sam served in the Mexican War and in the New Hampshire regiment during the Civil War.  S.R. Dickerman died at Andersonville prison and left diaries.
– William R. Dickerman[9] born in 1830 and died young in 1841 at Nashua, New Hampshire.
 – Charles A. Dickerman[9] born in 1832 in Topsham, Vermont.  Lived in Cambridge, Mass and is the ancestor of Owen[12], James[13],  and Charles[12] Dickerman.  Charles named his eldest son for younger brother Edward Henry Dickerman[9] below.
– Albert L. Dickerman[9] born in 1834 in Vermont.  Albert married Thankful Robbins and lived in Riviere du Loop, Canada for many years.  After Thankful's death, Albert remarried Eliza Kerrigan and moved to Kenton, Kentucky along with son, James Albert Dickerman[10].  Our research continues to search for possible descendants of James.
– James H. Dickerman[9] born in 1836 in New Hampshire.  James served during the Civil War and was mortally wounded, dying in 1863.  James had children including Dorr Dickerman[10] who lived and died in Michigan.  Still searching for any descendants.
– Nelson M. Dickerman[9] born in 1838 and died within a year.
– Edward Henry Dickerman[9] born in Nashua in 1840.  E.H. Dickerman is the subject of much research including the original Dickerman.org website.  Edward served with the Michigan Third Infantry and left diaries available for download and viewing.  E.H. Dickerman[9] is the ancestor of this author.
– Mary Diantha Dickerman[9], born in 1843 and died in 1870 in Fulton Township, Michigan.