Part of the draw of genealogy study is the desire to know your ancestors, to know where you came from.  For other researchers, it's the desire to solve a mystery – to fill in some missing piece of a larger puzzle that motivates you to spend countless hours researching what was once known but now is lost.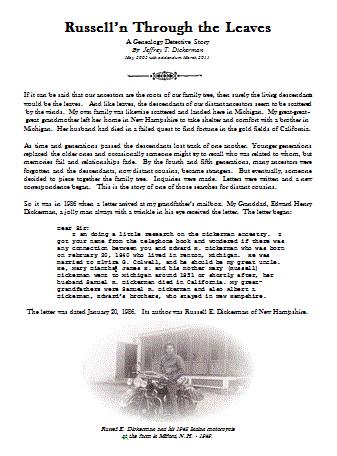 For this researcher, I must admit it's both.   I enjoy learning more about my ancestors, but when a puzzle piece falls neatly into place, I get a real feeling of accomplishment.
So it was earlier this fall when I went back and re-read the "Russell'n Through the Leaves" short story.   This story outlines the re-discovery of cousins long forgotten and the efforts of my family to re-connect.  One of the enduring mysteries of this chapter was the relationship of Aunt Bolles and James Russell.
In a letter dated June 19, 1886, James Russell wrote to Edward Henry9 Dickerman, my Great-Great Grandfather, and addressed him as "Dear Cousin Ed".  In the letter James describes a family dispute "among the heirs" of an estate worth some $40,000 – a sizable fortune in those days.  James was referring to the estate of Mr. James Harrison Bolles, a wealthy resident of Pepperill, Massachusetts.  James Bolles died November 5th, 1882 and his widow, Mrs. Dorcas R. Bolles, was deemed "insane" and under the guardianship of James Russell.  The full Probate Record from Hollis, Hillsborough County, New Hampshire can be read here:

Guardianship_of_Dorcas_R_Bolles-File_No_8195
Edward9 was described as "next of kin and heir".   My conclusion was that he was the nephew of Dorcas R. (Russell) Bolles, the sister of his mother Mary Russell Dickerman.  (Mary R. Dickerman later married Arnold Payne in Michigan.)   But how does James Russell fit into the picture?  Was he perhaps a brother of Dorcas and Mary?  After a decade of research, this author has not found any direct evidence to prove this to be true, though it seems very likely.
In my personal library, besides the 1886 letter, I have copies of several correspondences between James Russell, Edward Dickerman, and his Uncle Albert G. Russell.  Albert was a younger brother of Mary and Dorcas and a prominent citizen of Hubbardston, Michigan.  After the death of her husband, Samuel8 Dickerman in 1850, Mary R. moved to Michigan to live "in the wilderness" with her brother, A.G. Russell.  The family kept in contact with relatives back east through a series of letters and visits.  Much of our current research has been based upon the content of these letters.
Perhaps the most interesting part of James Russell's 1886 letter is a paragraph near the end.   He states
"There are a lot of spoons at Bennett's, which Bennett's wife proposed to have divided among the nephews and nieces of Mrs. Bolles.  It seems to me if any interest attaches to them it would be better for one to have the set than divide them among a dozen or so" "I think there are a dozen teaspoons and three or four table spoons."
These were likely silver spoons which would have had an intrinsic value but certainly far more value today as a family heirloom.  It  seems they were, indeed, "divided up among the heirs."   So this begs the question, whatever became of these spoons?  This remained a mystery until just recently.

Who was this Aunt Bolles?  She was always spoken of fondly among the letters and was undoubtedly a favorite Aunt of all the Dickerman children.   There was a bit of tragedy in her life but also a remarkable spirit that was evidenced by her actions.
Dorcas Russell and James Harrison Bolles were married January 27th, 1835 in Charleston, Massachusetts.  They had three children, James Albert (b. 1838), Julie Lorena (b. 1844) and  Lucy Mary (b. 1848).  Sadly, each died within a month of birth.  However, Mr. and Mrs. Bolles went on to adopt many children including the minor children of John Dickerman and her aunt Sally Ann Dakin.  The original Probate Records of this adoption can be seen here:

Guardianship_of_Samuel_Dickerman_et_als-File_No_2715
It turns out the Bolles would open their home to many children including an adoption of young, Dolly Ann Francena Butterfield.  Dolly was born Dec. 11, 1830, the daughter of David S. Butterfield and Catharine Hicklings.  Though I have yet to locate the original probate records of adoption, it seems that Dolly's name was changed to Francena Ann Bolles and that she was known as "Fannie".   A young veteran of the Mexican-American War, Samuel R.9 Dickerman, met Fannie and married her on March 12th, 1855.  Fannie gave birth to Frank Bolles10 Dickerman on June 26th of that year and tragically died July 20th, less than a month after giving birth.
Later, on December 16, 1861, S.R. Dickerman, would marry Sophia Blood and have a son George Henry Ainsworth10 Dickerman, in August 1863.  George H.A. Dickerman's descendant is Russell12 Dickerman who still lives in the Nashua, New Hampshire area.  When visiting Russ we came across the gravestone of Fannie A. Bolles, wife of S.R. Dickerman in Pepperill, Massachusetts as described in the "Russell'n" story.  Incredibly, Russ said that a lock of red hair had been passed down with Fannie's name attached.  Until we re-discovered her headstone at Pepperill, Russ had no idea who she was.
But what of this young lad, Frank Bolles Dickerman?  Without his mother to care for him, Sam left his son in the care of James and Dorcas Bolles.  Both Samuel and Frank were present in their home during the 1860 census.  With the outbreak of the Civil War, Samuel joined the New Hampshire Regiment and was captured late in the war.  Sadly, S.R. Dickerman died while a prisoner of war at Andersonville Prison in Georgia.  However, his name is not on any of the death rosters and his 1864 diary was lost.  Samuel's 1862 and 1863 diaries will be the subject of another post at some time in the future.
So now, we have Frank Bolles Dickerman, less than ten years old with both Mother and Father deceased.  The Bolles raised him as their own child and applied for his guardianship.  Eventually Frank took the name Frank Dickerman Bolles as described in the Last_Will_of_James_H_Bolles-File_No_8193.  Searching the internet this year I came across an Ancestry.com page called "The Frank Dickerman Bolles Story", written by his grandson, Kenneth Bolles11.   The entire story is available in pdf format here:

Frank Dickerman Bolles Story, by Kenneth Bolles – Ancestry
Following up on this story, I contacted Ken's son Richard B. Bolles12 who posted the story to Ancestry.com and reprinted here with his permission.  Richard is a twelfth generation descendant of Thomas1 Dickerman.  Richard put me in contact with Wendelyn Bolles 13 who shared with me a photo of a spoon passed down to her through her father and grandfather.  At last, we find one of Aunt Bolles' spoons.
Even more importantly, we've found new cousins and descendants of Thomas1 Dickerman.  Many thanks to Richard and Wendy for their help with this effort.