So who exactly was Thomas1 Dickerman and where did he come from?  Being the original immigrant ancestor for most living Dickerman's in America, this is certainly a valid question.  There has been much speculation regarding the ancestry of both Thomas1 and his wife, Ellen, in writing and on the internet.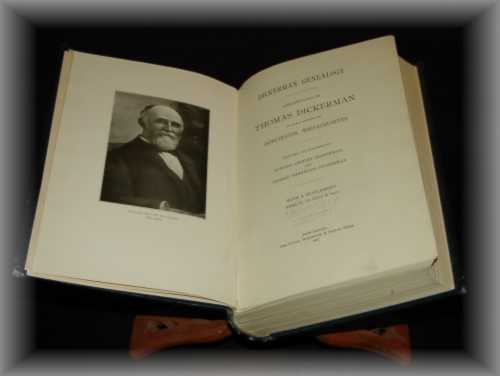 The Descendants of Thomas Dickerman, an Early Settler of Dorchester, Massachusetts (later renamed the Dickerman Genealogy) describes his life and migration to New England in as much detail as was known to author Edward Dwight7 Dickerman back in 1897 when he wrote the first edition.   Prior to E.D. Dickerman's excellent work, Albert Dickerman provided a brief description in the History of the Guilford Branch of the Dickerman Family, dedicated on the last day of 1869.  Perhaps it was Donald L. Jacobus who first revealed the origins of Thomas1 and Ellen in The American Genealogist in July 1950.   However, even Jacobus admitted that the source of his information, the late Horace Dickerman, may have revealed his research as much as twenty years earlier.  Undoubtedly, the original records upon which all this research was based sat quietly in the court records and parish register in England for centuries.   It is likely, too, that there are writings of which this author has no knowledge whatsoever.
Albert8 Dickerman published a small pamphlet in 1869 entitled the History of the Guilford Branch of the Dickerman Family which was perhaps one of the earliest published genealogies of the Dickerman Family.  Born in 1840 and raised in Masonville, N.Y., Albert 8 attended school until he was 16 and moved with his family to Ohio a year later.  During the Civil War, Albert  served with the Ohio Infantry achieving the rank of First Lieutenant, twice declining promotions to Captain.  After the war, he moved to Hillsdale, Michigan, where he became a lawyer and judge.  It was during this time that  he published the Guilford pamphlet.  Later, he moved to Muskegon, Michigan and finally to Watsonville, California.  Whether he knew or corresponded with his cousin, Edward Henry9 Dickerman, who was born the same year and also lived in Michigan after the war, remains a mystery.   In the pamphlet is this brief paragraph,
"Thomas Dickerman – Came from England in 1635, and settled in Dorchester, Massachusetts.  The time and place of his birth are not known.  He was married after his arrival at Dorchester, to a woman whose Christian name was Ellen, but whose maiden name in full is not known.  He died at Dorchester in 1657, leaving two children, and after his death his widow married John Ballard, of Medfield, Massachusetts.  This is all that is known of the man from whom all the people of that name, in this country, are probably descended."
Albert undoubtedly corresponded with E.D. Dickerman.   Edward7 gives credit for Albert's early work in the Dickerman Genealogy book.  However, by the time of publication in 1897, Edward had much more to say about the origins of Thomas 1.   The entire Chapter I – Colonial Beginnings was devoted to the early New England origins and is an excellent read.  Edward describes the origins of Dorchester and the company of Rev. Richard Mather arriving from Bristol aboard the ship "James" in 1635.  Less than a year later, the newly organized church with an "especially prepared covenant" dated 23 June 1636 appears.  Among the earliest subscribers of that covenant was Thomas Dickerman.

  E.D. Dickerman concludes :
"It seems likely that he was of Mr. Mather's company and came with him from England.  This is not proved, however; nor do we find any traces of his previous history.  The records of that period have been diligently searched, both in this country and in England, but without success."
Edward Dwight Dickerman goes on to speculate as to the origins of the name itself, and suggests that it
"seems to indicate a German origin, being compounded of the two words bid or bider and mann, meaning stout man.  It belongs, also, to many German families at the present time; and several representatives of these families have been among the recent immigrants from that country to America."
The 1922 edition of the Dickerman Genealogy, renamed and published by Edward Dwight's brother George Sherwood7 Dickerman provides no additional information regarding the origins of Thomas 1 Dickerman.
The mystery remained.  This author first learned the name of George Dickerman, suspected  father of Thomas1 as a teenager while reading a typewritten manuscript authored by H.R. Carson.  Dr. Carson prepared his manuscript in 1950 and sent copies to family members throughout the country.  Somehow a copy landed in my childhood home, and I was fascinated immediately.  Dr. Carson writes:
"George Dickerman, of England, is the first name we have.  We do not know the name of his wife, the size of his family, or the place of his abode.  All we know is that he had a son, Thomas, who married in England, and came to America with Ellen, his wife, and his sons, Thomas 1623-1690 and Abram, 1634-1711.  Two sons were born in America, Isaac, 1637-1726 and John, 1744-?, who died young."
Dr. Carson discusses his many meetings with Dickermans throughout the country. The names and addresses he obtained during his time may be helpful for researchers looking for additional information regarding their own lines.  The full manuscript is available for download here.
With the advent of the internet and especially the World Wide Web in the early 1990's, online sources such as Ancestry.com became the most commonly referenced source for new information.   One researcher might reference a second, who then references a third, who referenced the first researcher in a round–robin fashion making much the published information dubious at best.   Indeed, for genealogy purposes, the World Wide Web can become very tangled.
I have hesitated putting too much stock in undocumented claims from the internet. For example, the wife of Thomas1 was claimed to be Elinor Whitington in various spellings by many researchers.  Those researchers providing source information generally referred to "Jacobus" as the original source of Ellen's maiden name.  About a month ago, I finally decided to locate the source material and, after a trip to the Muskegon, Michigan genealogy library, we now happily provide the full reference in PDF format for all to read and understand.

According to Wikipedia, Donald Lines Jacobus was "widely regarding among genealogists as the dean of American genealogy during his lifetime."   Jacobus established the New Haven Genealogical Magazine in 1922, which became The American Genealogist ten years later.   In the July 1950 edition he published a brief entitled, "Dickerman Origin in England".   In the two page brief, Jacobus describes how the late Horace Dickerman left with him a file, "to be kept in a private file and not divulged during his lifetime."  The file provided information "obtained from the late Col. Charles E. Banks some clues to the original of the Dickerman family in England."  Evidently, by 1950, Jacobus felt enough time had passed that he could publish the information. In the brief, Jacobus outlines several English Court records dated 1619 and 1620, describing the
"Pleading of Alice Dickerman, widow of George Dickerman, of Marston Morteyne, co. Bedford, deceased, cook, and Thomas Dickerman, their 'Natural son' (eldest). ['Natural' here means by nature or blood.] Thomas was an apprentice in London.  Sent £40 up to London to his brother Abraham, then and yet inhabiting in London, in trust for Thomas."
Further, Jacobus provides from the Parish Register, Little Missenden, Bucks., this entry:
"Thomas Dickerman and Elinor Whittington married Oct. 20, 1631."
And from the Parish Register, Amersham, Bucks:
"John Whittington and Margaret Hill married Oct. 12, 1601."
Jacobus concludes:
"Interested descendants should not find it too difficult or costly, by having these clues followed in other English records, to obtain confirmatory data and to trace the line further back."
Never having traveled to England, I have not had the opportunity to search the original documents.  However, cousin Jeffrey Frank12 Dickerman currently lives in London.  A message from Jeff received just a couple of days ago indicates he's living " less than a mile from Southwark Cathedral where some milestone events took place for Thomas and his family.  Looks like things have come full circle now."